GENRE/FORMAT/ARTIST/TITLE/LABEL/PRICE/NEW OR USED/COLLECTORS NOTES/QTY IN STOCK
PUNK/HARDCORE SHIRT DROPDEAD Cross Christ Missile Armageddon Label 10.00 new various sizes/colors
LOCAL BOOK MAGGOTS By Brian Chippendale Picturebox 21.95 new 350 page comic, drawn in 97-98 at Fort Thunder…
In this follow-up to his acclaimed graphic novel, Ninja--which was reviewed in such diverse sources as The New York Times, Art Review and The Comics Journal--the co-founder of the legendary Providence underground art and music space, Fort Thunder, gives us an immersive, frenetic reading experience.
Originally drawn in 1996 over the pages of a Japanese book catalogue, Brian Chippendale's monumental 350-page graphic novel, Maggots, is reproduced here in a facsimile edition, with every nick and tear in tact. The line work--incredibly dense because Chippendale needed to cover up the Japanese catalogue--nearly vibrates off every page. As for the story, it concerns a group of characters who live in a place called Fort Thunder and wander around discovering little holes in their universe, battle a capitalist landlord, eat peanut butter sandwiches and embark on adventures somewhere between dirt punk and epic, cosmic science fiction. Chippendale's drawings are much like his famed drumming for the noise rock band Lightning Bolt: propulsive, soulful and chaotic. But, like his best songs, Maggots opens up into beautiful visual passages, vistas of temples and flowers--all drawn in scorching black marks that tell a story in their own abstractions.
Catalog Description
LOCAL LP CLOCKCLEANER Babylon Rules Load 8.99 new Gatefold
Who knew that the grizzliest, burliest of bass lines could, in fact, be sexy as well? Of course, in order to make sense of that declaration, it's vital that we reinterpret, nay, reinvent the term "sexy" as filtered through the logic and law of Clockcleaner. The world of said band, is a nether region in which citizens live happily with reversed moral courtesies. A living, vibrant naked body is vomit-inducing, while a corpse is the ultimate and most popular sexual thrill. The same would go for a slap on the face, whereas a gentle embrace is cause for anxiety and alarm. Grotesque is alive and well, thank fucking Christ—or maybe not. Babylon Rules, simply put, is beastly but imbued with stark grooves that give way to the band's charm. It just so happens that Clockcleaner's charm is comfortably akin to an amputee peepshow girl. This is further established with the adolescent Nick Cave croons and grunts while cavernous guitars screech against cold concrete walls, fuzz bass lines rattle the base of the skull and the drums palpate the heart. It's not easy to tell what frontman John Sharkey is trying to convey. But if titles like "Vomiting Mirrors," "Daddy Issues," and "Human Pigeon" are any indication—not to mention the creepier benign titles like "Man Across the Street"—it's not for the social drinker or blissfully ignorant newlyweds. This has proved a thoroughly fun listen. I've never been so stimulated by noise rock since hearing the more aggressive, but nonetheless tuneful Hammerhead. This power trio of ambiguously totalitarian charisma may not truly possess the dysfunctional aura of their music, but they are perverts in their own right that depict the kind of human nature that's so despised in this absurd mainstream rehash of moral correctness, that anyone looking so hard to escape will find no problem sinking in their cold-blooded undertow.
Review from treblezine.com
LOCAL LP DEATH VESSEL Stay Close Immune 15.99 new ltd to 500 copies, finally on vinyl!
There's an inescapable sideshow quality to the band Death Vessel. Listening to the 10 sepia-toned folk songs on its debut, Stay Close, you can almost hear some carnival barker loudly exhorting midwaygoers to step right up and see THE BOY WHO SINGS WITH THE VOICE OF A GIRL. Inside the tent sit a stage, an old microphone, and an unassuming man named Joel Thibodeau gently plucking an old guitar. None of it would strike anyone as out of the ordinary...until Thidodeau opens his mouth to sing. From that masculine frame emanates a woman's voice, one that doesn't just hit the higher registers like some Appalachian castrati, but possesses an assertive feminine lilt reminiscent of Laura Cantrell or Iris DeMent. But this isn't the typical androgyny of glam, which has no freight in the Americana traditions Death Vessel adopts. Gender isn't an issue inherent in the band's music, but is projected onto it by listeners and passively undiscouraged by the artist himself. Thibodeau-- who plays most of the instruments on the album-- doesn't write from a female perspective-- or from a male perspective either; on Stay Close the point of view is deliberately clouded by the delivery, which adds a layer of mystery to every note. As complex and compelling as it is, this aspect of Death Vessel proves as much a liability as an asset, often suggesting the mere novelty of a physical feat rather than actual artistry. On a few songs-- most notably the jaunty openers "Mean Streak" and "Later in Life Lift"-- Thibodeau's vocal delivery sounds like an end in itself, but more often it serves the purposes of his precisely crafted melodies and obscurely out-of-time lyrics, melding nicely into the mix of acoustic guitars, banjo, fiddle, and organ. From the hand-drawn cover art to the history-bound, occasionally impenetrable lyrics-- "The load is unneat, sprawling oddly/ J-ing the stern, pelicanly," he sings on "Blowing Cave"-- Stay Close has an antiquated style reminiscent of the 1999 movie Wisconsin Death Trip, which reenacts 19th century news stories about wintry deaths and rural despairs. Occasionally this atmosphere sounds studied and rehearsed, but moments like the coda of "Nothing Left to Bury" and the menacing drum-guitar interplay on "Deep in the Horchata" suggest a creative investment that transcends put-on airs. A mortal dread, played out with tensely intertwined guitar lines and gusts of feedback, shadows "Blowing Cave" and "Tidy Nervous Breakdown", making even the capriciousness of upbeat songs like the bluegrass "Mandan Dink", about a leisurely day at a place called Picnic Rock, seem precarious. Stay Close hits its stride on the last three songs, starting with his spacious cover of Townes Van Zandt's "Snow Don't Fall". On "Deep in the Horchata" he scratches out a melody on fiddle to echo his own vocals, as Daneil Mazone's drums stitch everything together. "White Mole" ends the album with a nearly instrumental coda, as Thibodeau's soft ooh's usher listeners out of his world and back into the hubbub of the midway.
Review from pitchforkmedia.com
LOCAL LP KITES Guillotine/Final Worship Load 8.99 new
This one-man noise project opts to not lean on the more "rock" elements of some of his contemporaries such as Wolf Eyes and instead goes for an early industrial and vaguely krautrock vibe that sets this disc apart from others in the genre. Chris Forgues does love making noise, and that comes across quite obviously on most of these tracks. However, instead of just blowing out speakers, he is also interested in using his array of home built oscillators and effects to create a more moody, atmospheric backing to the destruction. "Glitter Raider in the Hall of Triumph" exemplifies this, the home made gear used to create the 1960s sci-fi tones that open the track and the spoken word vocals belie the noise explosion that sets in just a few minutes later. The vaguely musical sounds of the home made gear also appear on "Poison Blur" in the form of a cheesy 1970s Eurotrash art flick, but the mix stays tamer on a backing of subbass oscillator swells and other ambient effects. Some of the other tracks are more than happy to satiate the need for full on noise abuse, such as the unsubtle microphone abuse and feedback loops of "Pink Shadows" and the distorted siren squeals of "Army Corpse/Supermen 2," both of which call to mind the more conventional noise assaults of projects like Prurient. There are also elements of the purely bizarre that are here as well, including the album's high point, "Nice Garden/Lady's Compact," which somehow manage to mesh the bleeps and buzzes of a 1983 video arcade with deep percussion sounds, the spastic squeaks of electronic mice, and the spoken word absurdist narrative of a guest female vocalist with some extremely harsh noise. It is as weird and wonderful as it sounds. The use of an answering machine message on "Cool People" may be reminiscent of Throbbing Gristle's classic "Death Threats" but is much less sinister, and augmented with a metric ton of noise. Throughout Hallucination Guillotine/Final Worship, Forgues manages to not only lean into the world of heavy hitting violent noise, but into artful bizarreness as well. Balancing pummeling electronics and the absurd is a tough call, but he does it, and for that reason, this album may have appeal outside of the circle of folks that make orgasmic moans at the thought of the Merzbox.
Review from brainwashed.com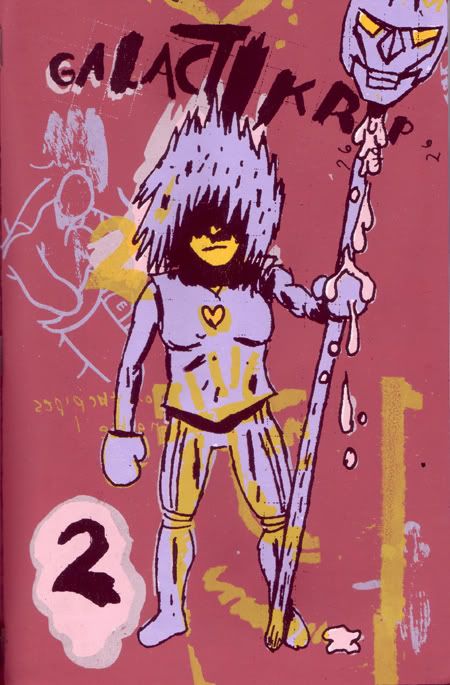 LOCAL MAGAZINE GALACTIKRAP 2 By Brian Chippendale self released 8.00 new 76 page comic w screenprinted cover by Brian from Lightning Bolt, really nice!
Chippendale unleashes another comic upon an unsuspecting world. Awesome screenprinted cover, 76 pages of black and white brain destruction. This is what I consider DIY quality. Another well done project by BC.
Ben/Armageddon
METAL CD WITCHCRAFT The Alchemist Candlelight 12.99 new Domestic digipack,Awesome!!!
Eagerly awaited by us, Witchcraft return with their third album. Heading further in the 70's rock direction they were hinting at on their last record. After repeated listens, this might be the best release so far. They've done their homework. We highly recommend this to anyone looking for something heavy, but not generic. A definite throwback to earlier times, but it sounds refreshing in this day of overdone, overrated, uninspired sounding heavy/stoner rock. Awesome record.
Ben/Armageddon
LOCAL EP LANDED / MEGAFUCKERS Split Kill Shaman 4.99 new
Features one track by LANDED from Providence/Rhode Island fuzzed out dub noise rock destructors. Sounding equally as warped as their previous records on Vermiform, Load, and Corleone... they lay "Osama Oxy Contin" on our collective asses. Oon the other side 2 raging Hardcore-killers by the MEGAFUCKERS from Los Angeles, in the same vein as bands like SODDAMN INSSEIN, WRANGLER BRUTES... Neil Burke(MRP, Sinking Body) writes the lyrics. Joel Kyack from Landed is in this band as well, making the Landed Megafuckers connection a family affair... LIMITED edition of 300 copies only!!!
LOCAL EP LANDED / SNAKE APARTMENT split Corleone 3.99 new (LABEL IS SOLD OUT! LAST FEW COPIES!!!)
The legend on the back of this split seven inch reads "Ugly Providence Boogie Rock". Well it most definitely is ugly and from Providence, but boogie rock might be stretching it a bit... We're still grooving to that last Landed 12" that found the ever shifting outfit unleashing some alien scuzz rock dancefloor technology, but this track here is a bit of the classic Landed sound, grungy and sludgey, blown out rhythms and buzzing guitars, super thick distorted bass, the whole thing a sort of plodding dirge, but peppered with wild squalls of angular mathiness and freaked out new wave damage. Pretty awesome stuff. The flip side is by fellow Rhode Island noise makers Snake Apartment, who do their own sludgy dirgey kind of thing. Channeling the Brainbombs through thick sheets of East coast art rock, and dipped in the black tar of classic old school Amrep noiserock, lots of stretched out guitars, strangled vocals, throbbing bass, all tangled up into swaggery Stoogesy grooves, that is surprisingly catchy.
Review from aquariusrecords.org